Zingy Chicken Wings and Book Review
This is not one of my usual posts with a recipe and pictures of my little one, munching on bones and other funny things! It is that too, of course, but there are exciting extras: a new grain-free cook book review and a giveaway!
I've been wanting to share this recipe for a while, but I needed to get a permission from the author of the marinade used, Ariana Mullins, who is one of my favourite real food bloggers, she writes at AndHereWeAre.
Last week Ariana's first cook book came out in a digital format and I got an opportunity to review it, offer a digital copy to one lucky reader and share one recipe with you!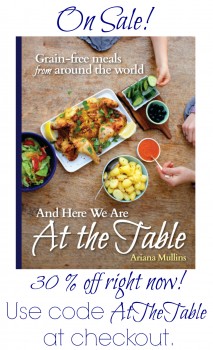 So I chose this one from many of her recipes that I love to cook, as its really versatile and is in fact at least two recipes in one.
Firstly the recipe and its hidden treasure:
I made the whole chicken according to the recipe a couple of times, it was delicious! The problem was – there wasn't enough chicken skin smothered in marinade for everyone. My daughter loves chicken skin and to suck on a chicken bone and would eat all of the skin leaving almost nothing for me, so I realised we needed more skin than meat to fully enjoy this recipe.
When I saw organic wings on sale, I knew that was the solution to maximise the surface area and the amount of bones for an ultimate finger licking dinner experience! And I doubled the marinade recipe to make sure every inch of those wings was covered with it.
After we finished the whole big tray of wings in one sitting, we put all the bones with the remaining fat and juices from the tray into a big pot and made the most amazing chicken broth ever!  That's the treasure part: garlic, ginger and lemon in the marinade gives the stock not only beautiful zingy flavours, but also increases its medicinal properties. I often add either lemon juice or raw vinegar to my cup of broth before drinking, but you don't need to add anything to this one!
Here is the recipe for the roast chicken (which Ariana suggests to spatchcock – and we do) from the And Here We Are At the Table. It would also work beautifully with any chicken parts: legs, thighs, wings or a mixture. But whatever you choose, don't throw the bones and juices away!
Garlic, Lemon and Ginger Marinade
(makes about 1/3 cup)
1 small bunch of thyme
4 cloves garlic
1 inch of fresh ginger root, sliced
1 T sea salt
juice of 1 lemon (about 1/4 cup)
3 T olive oil
pepper to taste
a dash of cayenne pepper (optional)
Put all ingredients into a small food processor and blend until everything is chopped fine and blended like a salad dressing.
To Prepare the Chicken
Make the marinade.
Put the chicken in a wide glass dish (like a pie pan) pour the marinade over it. Turn it over so both sides get covered. I often make two chickens at a time, laying one on top of the other, marinated, with the insides facing each other. Reserve a little marinade to brush the chicken with as it cooks.
Cover with wax paper or a lid and put the chicken back in the fridge overnight or for at least an hour. Honestly, the marinade is so flavorful that I have had great results with little rest time. But if you have the option, longer is better.
Heat your oven to 450 F (235 C).
Put your chicken skin-side-down on an oven rack (with a pan beneath to catch the drips) or use a broiler pan and roast for 20 minutes, or until the meat is turning a delicious golden-brown color. Turn the chicken over. This is kind of tricky– you may need to employ the use of two pairs of tongs, or tongs and spatula. The trick is to move quickly. You'll get better with practice, I promise. Once it's skin-side-up, apply the reserved marinade, and continue roasting until the skin is getting crispy and brown– about 25 minutes. Since the chicken is flat, it cooks much more quickly, and somehow (magically?) retains lots of moisture. Ooh, la la!
When your chicken is ready, take it tenderly out of the oven and let it rest for 10 minutes (you can cover it with tented foil if you don't want to lose too much heat) so the juices don't run out when you cut it up.
Eat it with your fingers. OK, you don't have to. But it's SO good that you will probably want to. The skin is crispy, garlicky and salty with just the right little tang. I like to squeeze some fresh lemon over ours, and we also like having it with some homemade sauerkraut on the side.
And now about the book:
I fell in love with Ariana's travel stories, photographs and then her recipes a long time ago. It was very hard to review this book, because every time I started reading it – I had to go to the kitchen in search of something to eat – the photographs just pull you in.
There are three other things that make this book outstanding from my point of view:
1. The recipes are grain-free, but they are mostly not adapted to be grain-free, they are naturally grain-free and also delicious, very well written and explained.
2. These are the recipes Ariana uses to nourish her family daily, family favourites. At least 5 of her recipes are already our family favourites and they just feel like tastier versions of what we already know – just roast a chicken according to one of her recipes and you'll be hooked too.
3. If experiencing local cuisine is your priority on holidays – then this book is definitely for you. If on the other hand you would like to save money and time on travels – just eat the recipes from this book! Ariana takes you to markets and on walks so convincingly, you can smell the fish at the fishmongers or the apples in the ochard.
This amazing book And Here We Are at The Table is now on sale!
E-book ( digital version) – Click to BUY here
Use code ATTHETABLE  at the checkout now through 2/11/15 to get 30% off of the eBook!
Printed version – Click to BUY
here
Moreover Ariana has kindly agreed to give one digital copy to one of you! Enter the giveaway by leaving a comment below! *** closing date for the giveaway is 28th January 2015 ***
And Here We Are at The Table is not an ordinary cookbook. Part memoir, part travelogue, and full of vibrant recipes from around the world, it's all about good food and the experience of a welcoming, abundant table. In this cookbook you will find:

80 recipes full of beautiful photographs
Clear and detailed instructions that anyone can follow, regardless of experience
Breakfast, Dinner, Sides, Salads, Condiments, Desserts, Drinks, and Cooking Basics
A delicious escape from mundane mealtimes
Vibrant flavors from all over the world
Food adventures and travel story features throughout the book

The digital version has some fun features: 3 video cooking classes, and lots of links to more travel and food stories throughout, which bring the recipes to life.