Creamy chicken & mushroom soup or what to do with a whole chicken…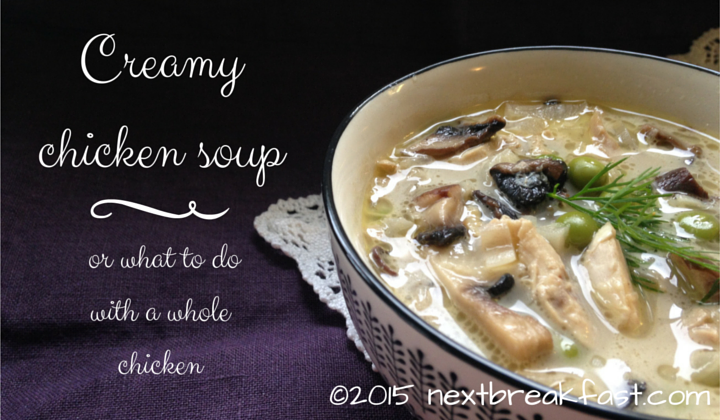 I originally started this post as a quick recipe for a quick soup, but then I realised that I needed to address the scientific as well as traditional reason for it – to be true to my blog's name and for you to understand what drives us to eat and cook this way…
Broth has been part of traditional food preparation and diet for thousands of years, it is not a fad as some now claim.
"Good broth will resurrect the dead,"  – South American proverb.
You've most probably heard of the legendary Jewish chicken soup, known as Jewish penicillin.
It has being shown that boiling the carcass of a chicken releases an enzyme which prevents infection with RSV (Respiratory Syncitial Virus) as sited in
Respiratory Care: A Guide to Clinical Practice
It does not cure disease once acquired, but having it in your diet three times a week during cold and flu season, can prevent it.
Nourishing Broth: An Old-Fashioned Remedy for the Modern World
 goes into a lot of detail of how cartilage-rich broth can cure a multitude of ailments. The information inspired us to include at least a cup of broth a day into our diet.
I grew up having soup as the first course every day, soup based on bone broth, not on Knorr cubes. My mission is to make my daughter love this tradition, understand it and crave her soup and so far we are doing well 🙂
We almost never buy chicken parts like breasts or legs or thighs. In Switzerland any part separated from a bird is more expensive than the bird per kilo, which is probably due to how much people get paid per hour here :). So you get chicken breasts, but no skin and no bones (read – most nutritious parts) and you pay through the roof (around 60 bucks per kilo for organic chicken breast). Organic whole chicken costs 19 bucks per kilo, which I can cope with. So what do we do with it? We developed a kind of routine:
First we roast the chicken, either whole and just rubbed with coarse sea salt or spatchcocked with a nice rub of lemon and garlic like this wonderful recipe from And Here We Are.
Then we eat legs like this:
and breast like this:
and then we make the stock:
– first taking off the remaining meat and saving it in a container for future concoctions
– deglazing the roasting tray with some water to get all the nice sticky bits of concentrated chicken juice out
– adding filtered water, an onion, a carrot (or two – the more the better and sweeter), a stick of celery, garlic and maybe ginger to the chicken carcass and the liquid from the roasting tray
– simmering for 24 hours or at least overnight.
This gives us a couple of litres of beautiful nourishing chicken stock – I freeze it in 0.7-1 L containers so I can defrost a small amount easily (0.7 l is a small amount for us – its basically a big cup each). I also freeze the meat sliced in zip lock bags.
And then we do these really comforting, super fast, soupy stews or stewy soups which take no time to prepare at all – stock is done, meat is cooked, just need to sautee a couple of additional veg ….
Creamy chicken and mushroom soup
Ingredients:
1 onion
a handful of button mushrooms
a handful of frozen peas
1 T creme fraiche
1 L chicken stock
Method:
In a stainless steel pot sautee onion until translucent or a bit more brown if you wish (slightly different flavour), then add mushrooms and sautee until they have "sweated", look darker and (unfortunately) much smaller….
Add the stock, bring to simmer, throw in the peas and let them heat up for a couple of minutes, add the chopped up chicken meat, simmer for 5 minutes until all heated through.
Then at low heat, add a tablespoon of creme fraiche, stirring it in well, making sure there are no lumps – creme fraiche doesn't curdle at low heat due to its fat content, but don't boil it too vigourously!
Season, taste, add more creme fraiche if you want it whiter or creamier (I almost always do, but then I am creme fraiche junkie).
And its done, – it is so fast and easy when you have all your key ingredients ready in the fridge or freezer! My daughter loves sipping on the liquid in this soup and then eating the solid ingredients as the second course.
Variations are endless! Add cooked carrots, noodles, potatoes, spring onions (we often do), cooked broccoli, bacon left over from breakfast? – why not!