Sprout Guacamole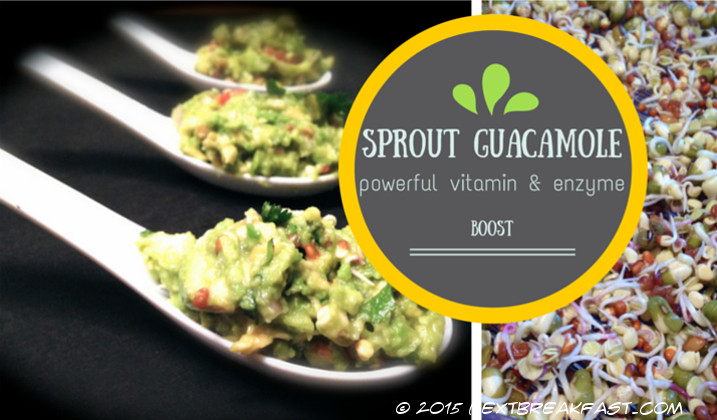 Don't you just love it when you find out that one of your favourite foods is amazingly good for you? I fell in love with avocados the first time I tried them, I was 18 – so I remember the feeling!  I know my daughter doesn't remember her first avocado, as this was her regular baby food, especially on holidays – perfectly mashable and naturally packaged, no added anything.
You may already know that avocados are full of healthy fats, support cardio-vascular health and improve absorbtion of vitamins of other vegetables eaten with it, but they also posses nearly miraculous properties – they can actually compensate for negative effects of eating junk food such as a burger meal – this Dr.Mercola article talks about this study and gives a detailed assessment of avocado benefits.
Another miracle food is sprouts (no, not those sprouts), sprouting beans, seeds and grains. Leaving the actual health properties aside for a minute. How amazing is it to grow food on your kitchen counter in just a few days? Doesn't get any more local grown! My daughter often pops her head over the counter and enquires "What are we growing now, mummy?" – because we are always growing something.
Sprouts are fun, tasty and beautiful. I don't think I can ever stop being amazed at watching the power hidden within the seed being unlocked just by a few drops of water. How much life force is in that tiny crumb of a grain that a beautiful large plant can grow from it?! Just imagine! And while you are imagining – eat a handful of sprouts.
It is not surprising that there are numerous health benefits to eating sprouts (read this Care2 article for the full list):
Sprouts contain up to 100 times more enzymes than uncooked fruit and vegetables. Enzymes help your body extract more vitamins, minerals, amino acids and essential fatty acids to ensure that all of your body processes work more effectively.
Vitamin content increases dramatically during sprouting, for example sprouting mung beans (one of our favourites) increases their "vitamin B1 by up to 285 percent, vitamin B2 by up to 515 percent, and niacin by up to 256 percent.
During sprouting, minerals such as calcium and magnesium bind to protein in the seed and become more bio-available for our bodies to absorb.
To tell you the truth, it was an accident that I mixed these two super foods, but a happy one as it will definitely stay on our menu.
The funny thing about our favourite foods seems to be that they are equally good as a baby food and as a grown up canapé (like our sourdough crepes) – we just love easy textures 🙂
So, lets make that miraculous super food or just a yummy avocado dip /baby food/ champagne canapé!
You will need:
2 avocados
a little bit of chopped tomato – 3 cherry ones or 1/2 a small tomato
a handful of coriander  – feel free to skip if you don't like it and add other herbs that you like
a handful of sprouts – we used mustard seeds, lentils and mung beans
a squeeze of lemon
1 T roasted sesame oil – this is quite important to give the dish a nice asian flavour
a pinch of salt
Method:
Cut the avocado into cubes and then mash roughly, add the rest of ingredients, mix it all up and then – choose your favourite way to serve it! Little canapé spoons? On top of small rounds of toast or pancakes? Or just in a bowl with big spoons on the side!
Sprouts add texture to uniform avocado and the mixture becomes more of a salad rather than a dip – but you can by all means still dip things into it!
Check out this cool graphic summarising benefits and facts and fun facts about avocado!
What is your favourite way to eat avocado? What are your favourite sprouts?