Homemade Gentle Whitening Toothpaste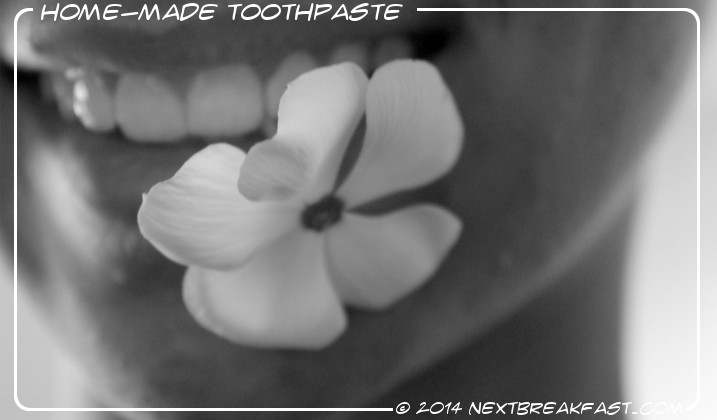 I have recently discovered that Fluoride is not as good for our bodies as some would have us believe.
After some research I decided to start looking for a fluoride free toothpaste, there are plenty on the market. You can find strawberry flavoured ones from Lavera and Logona, a minty one from Weleda and many others in any chemist, supermarket or Reformhaus.
However they all also contain glycerine.
Is glycerine bad? good? While the Fluoride is getting slowly but steadily labelled as BAD, there doesn't seem to be any conclusive evidence about Glycerine. There is a hypothesis that Glycerine prevents remineralization of teeth, however the debate is ongoing. It is not a poison, but whether it coats the teeth enough to prevent the absorption of minerals seems to depend on what it is mixed with and in what proportions.
To be on the safe side, I prefer to brush our teeth with something I understand and something that actually cleans them.
So I decided to research some more and see if I could make my own.
Actually, I discovered that fluoride is quite poisonous:
"It is apparent that fluorides have the ability to interfere with the functions of the brain."
(National Research Council, 2006)
It doesn't stop there:
Fluoride is what's called a xenobiotic. It's a poison. Xenobiotic or anti-life, it kills or damages almost everything it comes in contact with. So, the fact that you can brush your teeth with it and ostensibly lower your tooth decay rate should not be considered in a vacuum. Why does it do that? It does that because it's harmful to the germs that live on your teeth. And the reason is these same reason it's harmful to your body. It inhibits every enzyme known to mankind. It damages the mechanism whereby your body makes energy. It damages the mechanism whereby your body makes teeth, bones, brains, blood vessels, arteries. It damages every single system that your body has. So, the fact that if you brush your teeth with a deadly poison slightly reduces the number of germs that are alive on your teeth should be a cause of concern rather than a tremendous, "Oh, wow! Isn't that good?!
(Source: Healthy Mouth World Summit Guest: Dr David Kennedy The Truth about Fluoride)
learn more about Dr. kennedy's research and films on fluoride
And more about water fluoridation and fluoride in general:
there is extensive evidence that fluoride can interfere with many important biological processes.
Once I decided to try to make my own, I wanted to be at least very sure that what I was using wasn't going to be as harmful as the least harmful commercially available products.
Another issue in my case, is that Strawberry taste – my daughter swallows the toothpaste because it tastes like jam (we're still working on gargling and spitting). I do not classify toothpaste as a valuable addition to her nourishing diet, so I'd rather make something pleasant but not too yummy 🙂
The origin of the recipe is the Homemade Mommy Beauty Essentials e-book, which I thoroughly recommend.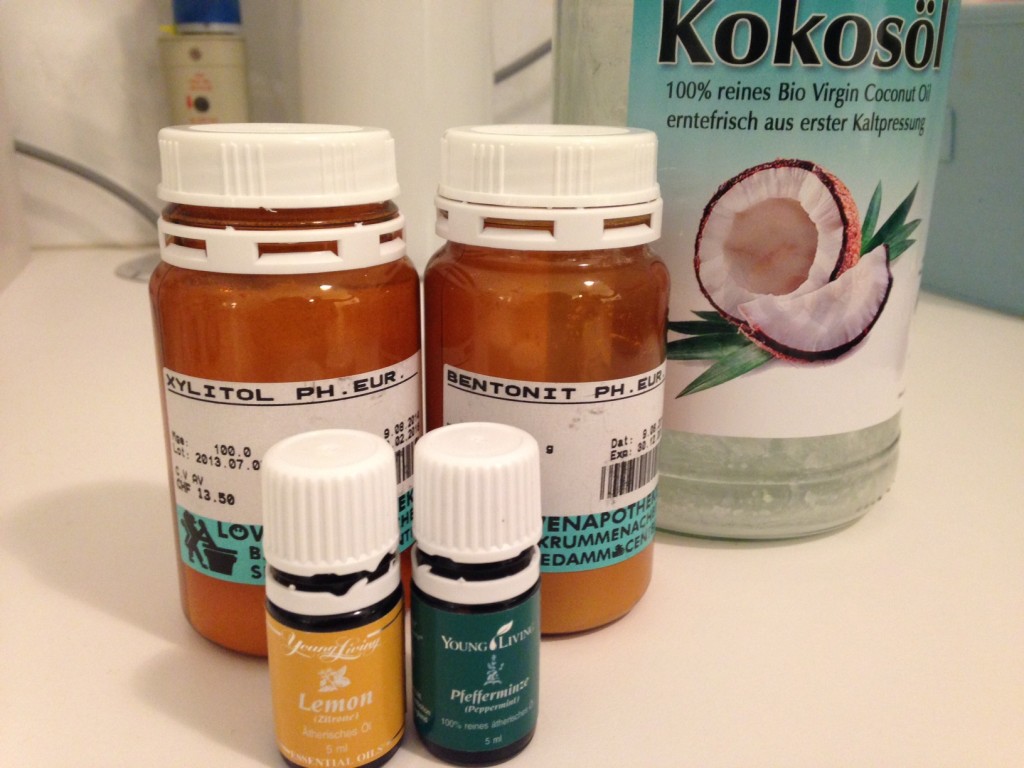 I am not using exactly the same recipe, as I couldn't source some of the ingredients, so here is my version based on our taste and the equivalent ingredients available here in Switzerland:
Homemade Gentle Whitening Toothpaste Recipe
4 Tbsp Bentonite clay
2 Tbsp Coconut oil (slightly warmed to liquefy and help with the mixing)
2 Tbsp Xylitol
2-3 Tbsp Filtered water
10 drops Peppermint oil
10 drops Lemon oil
5-10 drops Clove oil
Bentonite Clay is composed of aged volcanic ash. Bentonite is what is known as a healing clay, it can be used for numerous ailments (internally for food poisoning or upset stomach, externally for inflammation as a poultice). It has an excellent ability to bind to heavy metals and toxins as well as to provide minerals, while having no taste and a typical toothpowder or when hydrated toothpaste texture.
Great post with a lot of information about bentonite clay in one place at Wellness Mama.
Coconut oil is a great antibacterial, antifungal agent. Read more in this Guardian article. Coconut oil also attacks the bacteria behind tooth decay and could be used in dental care products, according to research.
Xylitol. Data from recent studies indicate that  can reduce the occurrence of dental caries in young children, schoolchildren, and mothers, and in children via their mothers. Xylitol, a sugar alcohol, is derived mainly from birch and other hardwood trees.
Lemon Essential Oil. We have added this because we wanted a "lemony" toothpaste. Apart from tasting great, having a calming effect and fighting off infections, it is also a great cleaner! It needs some more experimentation, but I suspect that this is one of the key whitening/stain removing ingredients in this DIY toothpaste. I use Young Living Lemon Essential Oil.
Clove Essenetial Oil. The health benefits of clove oil can be attributed to its antimicrobial, antifungal, antiseptic, antiviral, aphrodisiac and stimulating properties. Clove oil contains the compound eugenol, which has been used in dentistry for many years. Gargling with diluted clove oil helps in easing throat pain and irritation. The characteristic smell of clove oil also helps to eliminate bad breath. Clove is also effective against cavities.
Peppermint oil. Due to its antiseptic properties, peppermint oil is very useful in dental care. It also eliminates bad breath and helps teeth and gums fight off hazardous germs.
After mixing the ingredients I transferred the toothpaste to a small squeezy bottle I obtained from a camping supplier.
I use Young living essential oils for their purity and excellent quality, use Young Living essential oils and get 24% discount.