Strawberry Ice Lolly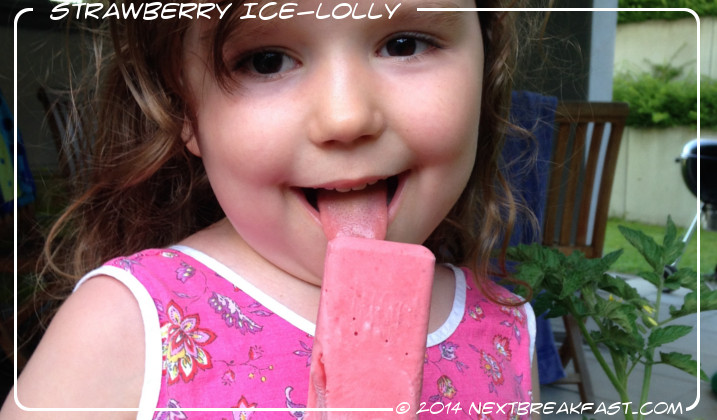 Do you feel guilty when you buy your child an ice cream? I do, because of this:
Walls Haribo Push Up Ingredients: Reconstituted skimmed milk, water, strawberry puree (9%), glucose syrup, fructose, dextrose, sugar, whey solids, vegetable fat, stabilisers (locust bean gum, guar gum, carrageenan, sodium alginate), citric acid, emulsifier (mono- and di-glycerides of fatty acids), beetroot juice concentrate, flavourings. Fruit flavour gummy bears (5g): glucose syrup, sugar, gelatine, dextrose, fruit juice from concentrate (apple, strawberry, raspberry, orange, lemon, pineapple), citric acid, fruit and plant concentrates (nettle, apple, spinach, kiwi, orange, elderberry, lemon, mango, passion fruit, blackcurrant, aronia, grape), flavourings, glazing agents (white and yellow beeswax, carnauba wax), elderberry extract,carob extract, invert sugar.
Locust bean gum? what is it? will my child's body know what to do with it? Did we evolve to digest locust bean gum in combination with vegetable fat? How do I find out? Are there studies about those Locust beans?
Yes, and here is a great article about some of the gums.
While gums seem to be relatively harmless, there is a lot of controversy about carrageenan. Chris Kesser analysed a lot of research papers and classified carrageenan as having "questionable adverse effects".
And sugar of course, surely the worst refined kind.
And which vegetable fat is it? It is not declared, so it could be canola or rapeseed oil that goes rancid very quickly and has to be deodorised and ends up containing trans fats:
Like all modern vegetable oils, canola oil goes through the process of caustic refining, bleaching and degumming–all of which involve high temperatures or chemicals of questionable safety. And because canola oil is high in omega-3 fatty acids, which easily become rancid and foul-smelling when subjected to oxygen and high temperatures, it must be deodorized. The standard deodorization process removes a large portion of the omega-3 fatty acids by turning them into trans fatty acids.
source: Weston Price Foundation
To be honest it will take me hours to research the long list of ingredients in any commercial ice cream, it will take 10 minutes for my daughter to eat it BUT it can take me 3 minutes to make a homemade one. I do love research, but I'd rather play with my daughter then worry about carrageenan, locust gum and trans fats.
I still buy them on holidays, at the beach, at fun fares and I feel a little less guilty thinking that we will compensate at home with good real food.
When kids ask for an ice cream they want something sweet and cold, right? and maybe pink or orange or even stripy. Its easier than you think!
Here is a super fast solution to make you feel proud instead of guilty.
After a lot of experiments I found what I think is the most perfect strawberry ice lolly for us. It doesn't involve making a custard, its not watery and rock hard and we've been making them at least every week this summer
Ingredients:
Makes 4-5 little plastic mould lollies
2 tbsp thick double cream (for example double cream de la Gruyère)
5-6 large strawberries (or/and blueberries, cherries…)
1 tsp raw local honey
Method:
Blend all until well combined, if too creamy – add another strawberry, if too red, add more cream, it's really up to you!
Pour into lolly moulds, freeze, (takes about 2 hrs – depends on your freezer)
That's it! That's 3 minutes total preparation! Compare this to 3 hours vegetable oil/wheat/locust research, I know which one I choose every time.
By the way this works because the Gruyère cream is already very thick, fresh strawberries add more body and so even before freezing the mixture has the consistency of a very thick smoothy, which means if someone is very impatient or you run out of moulds before you run out of the mixture, well then…. you can lick the bowl or eat the whole bowl and forget about the moulds. When frozen these lollies are not rock hard because of the high fat content of the cream and being aerated through blending, so you can also bite it, not only lick.
And at this point you clocked the high fat bit and are worrying about it? Just Google 'saturated fat myth' or 'why saturated fat is good for you' and you will find a lot of information, recently also in mass media, debunking the saturated fat myth. In a nutshell the study the "conventional" nutritional guidelines were based on was based on manipulated data, but the food industry giants defended this standpoint because processed foods like margarine mean a lot of profit for them. Here is one article talking about the Time magazine "Eat butter" feature that went viral.
"Aseem Malhotra, a London cardiologist writing in the British Medical Journal argues this insistence that saturated fats should be removed from our diet may have increased the risk of cardiovascular disease, because saturated fats have been found to be "protective".
He makes a strong case that dairy products such as butter and cheese contain vitamin D – a lack of which has been linked to increased heart disease – and calcium and phosphorus, which may have blood pressure-lowering effects.
See this article for more information.
Side Note: It is important to use raw local honey :
Raw honey has not been treated with heat; It is completely left in its natural state and therefore contains pollen, enzymes, antioxidants and many other beneficial compounds that researchers are just beginning to learn about. And Local is important because you would need to eat local pollen to be protected from the allergens relevant in your area. In Switzerland its easy to get raw honey even in supermarkets, but go one step further to your nearest farm!
And about stripy and orange lollies? I'll tell you in another post!
An unusual , Heston Blumenthal-like, flavour variation can be achieved by dipping your lolly into a bowl of soy sauce, which we don't recommend after having done so 🙂