Meat & Potato Muffins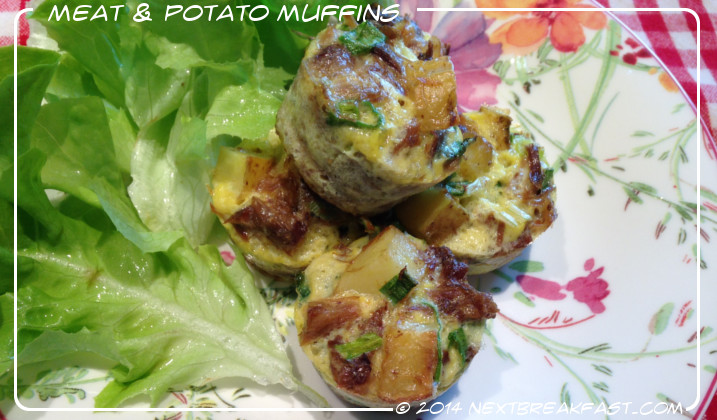 After a week on holiday I couldn't wait to get home and start cooking. During a rummage in the freezer I found a forgotten bag of cooked oxtail meat left over after making the oxtail stock and the idea for next breakfast was born! I already started thinking in the direction of a meatier breakfast muffin that is completely free of any processed ingredients and is less like an omelette. For dinner I roasted potatoes in goose fat and we had some left over, so they became a logical addition to our next breakfast too!
For meatuffins you will need:
200 g cooked meat such as from oxtail stock, but any meat will do, left over roast chicken or even some stew if it's not too saucy
150 g of cooked potatoes
1 large spring onion – green and white parts
2 large eggs
mini muffin baking tray
Preheat the oven to 200 C (no fan)
1. Chop the meat finely so it can be equally distributed through the muffins
2. Chop the potatoes in 1 cm cubes or smaller (ours were already roasted in small cubes, so I didn't chop them)
3. Chop the spring onion finely
4. Break the two eggs into the bowl with the other ingredients, season with salt and pepper and mix
5. Fill your muffin moulds with the mixture almost to the rim as these don't puff up much
6. Bake for around 20 minutes or until puffed up and slightly golden.
Wait a little for them to cool down – they are tastier when they are not sizzling hot.
We love making up names for our inventions. Katherine said we should call these "Potaffins!". This is actually a perfect name for mini tortilla Espagnol – potaffins 🙂   But when you load them with meat they kind of turn into meatuffins, don't they?  However we follow a democratic voting system and if potaffins become the chosen name, then we will embrace their potafinness  for generations to come.
They taste like a cosy rustic dinner in a canapé form. Meat, potato and onion is a magic cosy-tasty-comfort combination which transports me to my childhood, makes my  Slavic taste buds sing, makes me want to listen to Rachmaninov Vespers and weep uncontrollably … until its time to hang the laundry.
I am certain that we will make them again: perfect not only for breakfast but for a picnic or a nutritious lunch on the go.
Let your imagination and your left overs guide you to your own variations of meatuffins, potaffin or fishaffins that just may become your families favourite. And don't forget to have a family naming contest for your wonderful creations!