Smoked Salmon and Cabbage Frittata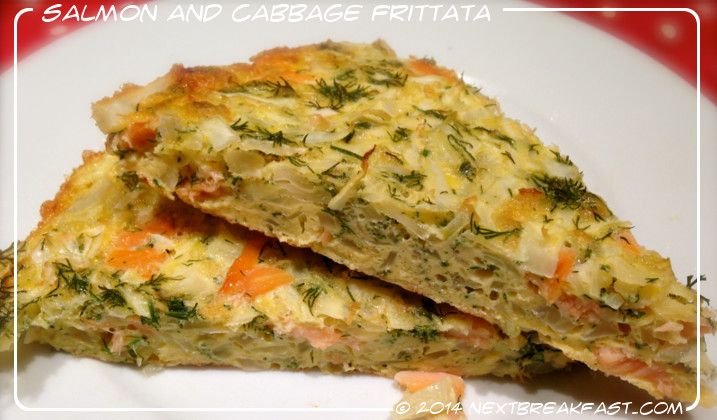 Sometimes things just happen.
And for me things happen when I am under pressure – 40 minutes left before I have to leave and get my daughter from school, not sure what we are having for dinner, smoked salmon in the fridge needs using. Further exploration of the fridge revealed a quarter of a cabbage, half an onion and a bunch of dill.
I was thinking that if okonomyaki (Japanese cabbage based pancake) tastes really good to us, this combination should work!
Here is what you need:
1 quarter of a small white cabbage shredded ( about 2 cups packed I would say)
1 onion (or 1/2 large onion) chopped small
1 bunch of dill chopped
100 g smoked salmon , chopped
6 eggs
2 tbsp tapioca flour (or corn, or arrowroot or normal wheat)
1-2 tbsp of tallow, lard, ghee or other healthy cooking fat, for frying
And here is all you do:
Pre-heat the oven to 180°C no fan.
Mix all ingredients together in a bowl. Heat a frying pan to medium and melt the cooking fat (I used a 28 cm stainless steel pan and beef tallow). Pour in the mixed ingredients, spread and flatten the mixture evenly and make it uniform, so there are no pools of egg or mountains of cabbage.
Take the pan from the stove and put it in the oven. Cook for 20 minutes, or until firm and slightly golden on top. Let it cool a bit under a lid (this helps to "un-stick" it from the pan). All that's left to do is slice and munch!
For the last 5 minutes I switched the oven to top heating element only, as I had an impression the bottom might be getting too brown – you know your oven, so adjust your strategy accordingly!
I was really pleased with how it came out. Very easy to slice into wedges or even small squares – kid-friendly or amuse-bouche style for an aperitivo. Notice I didnt put any salt – you may adjust that to your taste, but smoked salmon is normally salty enough.
And I guess I wouldn't be writing any of the above if it wasn't for my daughters reaction. "Yum-yum! I can taste something crunchy but I don't know what it is!" She loves raw cabbage and for me the challenge is always to leave stuff crunchy enough even in cooked meals. Nailed it this time 🙂