10 tips to inspire your kids to eat salads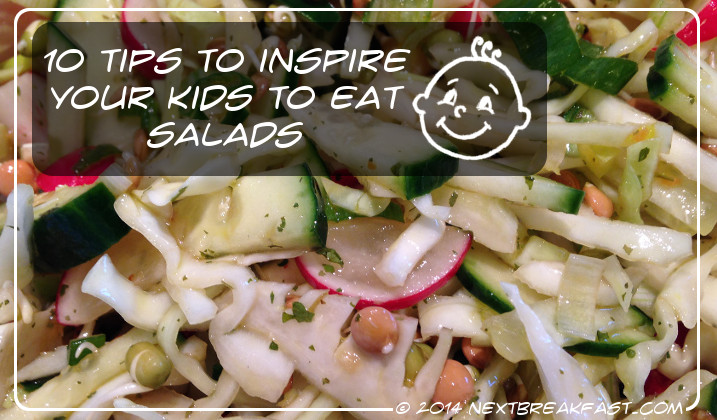 Do your kids eat salads?
Mine didn't until very recently.
Most kids like carrot sticks, cucumber slices, pepper wedges, cauliflower florets and all things crunchy. Cherry tomatoes seem also to be an attractive vegetable for them – cute, small and bright. My daughter steals freshly cut cabbage when I make sauerkraut and munches on (raw) cauliflower, broccoli and cabbage stalks with gusto.
However, as soon as I mix any vegetables together in a salad – a suspicious face would be peering down on the plate, smelling, examining, picking out individual pieces and generally not eating very much.
My theory is that kids have this self-preservation instinct, much stronger than us adults, which tells them not to eat anything they don't understand. This would make any mixed salads and sauces very suspect. I heard from many parents that kids don't like sauces and especially food covered with a sauce – they want to see and understand what it is they are about to put into their mouth. I think its a great instinct, and a very healthy attitude, but at one point I got tired of mixing my salad on my plate and drizzling the dressing on, while my Munchkin was eating the de-constructed, hand-picked version, sorted by colour. I so wanted her to enjoy the magical blending of flavours of a proper salad, where juices from vegetables blend with each other, the dressing, the herbs and seeds, creating a symphonic flavour unlike any of the single ingredients.
Our breakthrough happened when I asked her what she would like in her salad and she chose the ingredients, ingredients she knows, understands and likes. Than I said that I would really like her to come up with a name for this salad, so she needs to carefully taste it and we can have a salad naming contest in the family.
These are my 10 tips to go from a pile of crudités to a symphony:
1. Start with deconstructed salads, that's basically your crudités on the plate, arranged in piles. Introduce new vegetables now and again. Colourful is always appealing to kids.
We encourage you to mix vegetables of several colours in your salads. Different colours in vegetables denote the presence of vitamins and minerals in different proportions. A salad that mixes green, white, orange, red and maroon vegetables ensures a full complement of nutrients. – Nourishing Traditions by Sally Fallon
2. Introduce simple dips – crème fraiche, crème fraiche with a splash soy sauce or fish sauce, cream cheese, sea salt and herbs, hummus, home made mayonnaise.
3. Ask the kids what they want in their salad, and follow the "recipe", you might be pleasantly surprised. The only limit is what vegetables you have in the house. When my daughter says "and then some red pepper" and I say "we don't have any", she asks what we do have and chooses from the available options. For smaller kids — show them the available veggies and let them pick.
4. Let them watch while you cut the vegetables, let them taste all the components from the cutting board, cut some bigger pieces for them to take away and munch on while you are making the salad.
5. Ask you kid to come up with a name for the salad, based on how it looks and tastes. Announce a family salad naming competition (but your kid always wins, you knew that, right? 🙂 ) Come up with silly names and have a laugh. This salad was christened "Backchino"
and this one "Pisosso"
6. Take pictures of the successful salads to show your kids later so they can choose from their own creations. I am thinking of making a folder with printed pictures as a visual inspiration for my little one, not only for salads, but other dishes she enjoys – "what would you like for dinner tomorrow? here is the book to choose from" kind of scenario.
7. Invent your own dressings with an open mind – at one point I had some dipping sauce left over I made for rice paper rolls – soy sauce, fish sauce, lemon juice with crushed garlic and lots of chopped coriander – and I put some into a salad – we really liked it! so now an asian style dressing is our favourite.
8. If your child enjoys meat, mix up some soft cooked meat left over from a roast (lamb shoulder, chicken, pork) with crunchy raw vegetables. There will be more textures and flavours. Such a salad can easily replace dinner, lamb shoulder salad is one of my daughters favourites.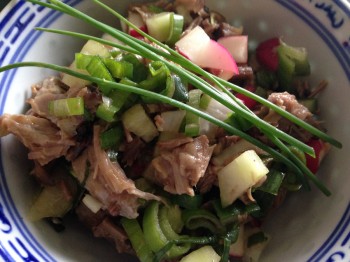 9. Try cooked vegetables mixed with raw and a creamy dressing such as home made mayonnaise or crème fraiche – again the difference in textures makes such combinations appealing to some – my daughter still has not warmed up to my Russian salad, but one friend of hers loves it! We all love cooked beetroot and mackerel though.
10. Make your own sprouts (lentils, chickpeas, mung beans, water cress etc). Let your kids watch them grow (or also sow them) – they get very excited about the sprouting progress every morning (we love a transparent multilevel one like this one). Let them sprinkle their sprouts onto the salad or eat directly from the sprouting box!
Don't give up! I almost did, I thought it will always be de-constructed, but now its all so Pisosso and Backchino!